Mastodon: A look back on their history playing Belfast
Monday 14th January will soon be upon us—a date undoubtedly earmarked in a number of local diaries since the relatively recent announcement of a mammoth package tour due to stampede into town. This eagerly awaited date for Northern Irish metal fans marks the feverishly anticipated return of Atlanta's progressive-metal juggernauts, Mastodon, to Belfast.
Far from strangers to the city, the band is kicking off their latest European jaunt here, with Kvelertak & Mutoid Man in tow, promising to give thrilled audiences their first glimpses of material from their latest release Emperor of Sand. In honour of this triumphant return to our fair city, we wanted to give a brief retrospective of Mastodon's remarkable history in the country.
Looking back in time
Casting our minds all the way back to 2007, in the midst of some seriously special metal shows taking place in the country, including Machine Head at the Balmoral Hall and Ozzy's visit to The Point (now 3Arena Dublin), there occurred an unprecedented sell out show in the Spring & Airbrake (March 2nd, 2007). This was Mastodon's first ever introduction to Belfast and an event that not only set the foundations, but also solidified a serious fan base for the at-the-time oddball metallers in the city. Building serious momentum off the back of the now classic album Blood Mountain, Mastodon wasted no time in returning, proudly filling out another night later the next year (December 4th, 2008), this time to an even more devout and responsive crowd.
With this being the case, it was somewhat surprising to many now-diehard aficionados that Mastodon's ground breaking follow-up Crack The Skye—which saw the band undertake the most demanding touring cycle of their career at the time—did not pave the way for another triumphant return to the city. On the back of their 2011 release The Hunter, however, fans were treated to two back to back nights at Dublin's Academy in the balmy summer of 2013 (June 12th & 13th) showcasing the full force of the bands latest seismic output. Belfast unfortunately, would never quite see these masterpieces in all the glory that Dublin audiences did, however what happened next made up for this tenfold.
With Once More 'Round The Sun unleashing the catchiest and most accessible Mastodon material to date, it would turn out that the band would make no fewer than three simply unforgettable visits to the city. The first of these visits marked the outset of another European tour in November 2014. The Limelight was bursting at the seams as Mastodon showcased a considerably tighter unit, effortlessly reeling off contagiously memorable tunes from the latest record.
If that weren't enough to satiate the appetite of Belfast audience, the band circled back again on the same tour in 2015 for their biggest headlining show to date in the city at the grandiose Ulster Hall. Playing a largely similar set to that of the year previous, Mastodon were able to capture the imagination of a much larger audience than previous visits. At this point, their honed cover of Thin Lizzy's 'Emerald' was played with furious intent, establishing what would come to be known as a staple of their Irish appearances—just another crowd-pleasing nod to their relationship to playing here perhaps!
Winter is coming
The third, and certainly most remarkable, visit to Belfast during this tour gave the guys from Mastodon (in all their grizzly, bearded glory) the opportunity to find themselves in and amongst literal hordes of similarly grizzly, bearded men. I'm referring, of course, to the historic and fan-lauded appearances of the band among the ranks of Game of Thrones cast members. Stepping onto the set in Northern Ireland alongside hundreds of keen extras, the guys made a part of television history with their cameo in Season 5 episode 'Hardhome.'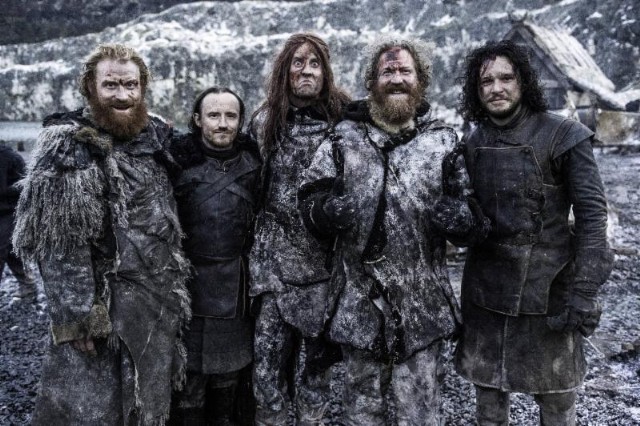 To cement their place in the GoT universe even further, in 2015 the band announced a new single 'White Walker', a track commissioned by HBO to tie in with the frenziedly popular series. The resurgence of vinyl as a popular format has, for metal fans, almost been synonymous with Mastodon releases, re-releases and exclusive limited editions, but this one sparked a particular fervor with fans. For their 2016 Limelight show (an exclusive warm up for their Bloodstock Festival headlining slot) the band had a whole range of 'White Walker' merch in tow, tees which can still been seen sported on metal fans across Belfast on a regular basis!
This August 2016 show itself delivered one of the most extraordinary concert experiences you could hope for, partly thanks to an absolutely rapturous response from their crazed audience—one that I'm sure still resonates in the band members' memories.
Related:
Having said that, the following night in Dublin's Academy featured a slightly more subdued (hungover?) yet nonetheless tight and ferocious set from the band. Not only did this latest visit to Ireland give audiences one last chance to revel in material from Once More 'Round the Sun, but it also afforded Mastodon another occasion to slide seamlessly into the world of Games of Thrones. This time the boys would appear in the Season 7 finale, and would resultantly end up being viewed by more than 12 million people across the globe.
Their commitment to Belfast
Whilst it has been a pleasure to recall concerts past of a band that has revolutionized contemporary metal, the purpose of this article is really to hand it to Mastodon. As I'm sure many fellow fans of the genre will agree, it can only too often feel as though the acts that pass through Belfast can be few and far between. Indeed only a fraction of those bands touring Europe and UK will make it as far as Belfast; some groups only get booked to play Dublin.
Mastodon, however, are a group who have broken that mold. They go to the effort of making a sincere and genuinely appreciated visit to the city at least once on every album cycle, always returning to rapturous applause, and even capable of delivering once in a lifetime quality shows. Indeed, having born witness to Mastodon shows all around Europe and the United States, it is each and every time the band have lit up the inside of a Belfast music hall that seeing them has truly been a night to remember. I have no doubt that the January 14th show will be any different; you're in for a treat!
Secure your tickets now for Mastodon on January 14th.
Photo credit: Jimmy Hubbard